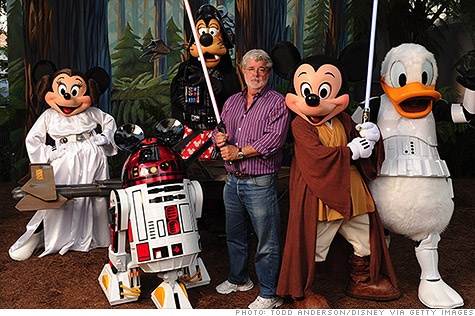 Disney may be paying over 4-billion dollars to buy Lucasfilm Ltd. from George Lucas, but the most entertaining part of the story is what comes next – thanks in large part to the world of Photoshop.
For those who don't know, Lucasfilm is the production company formed by Lucas – the creator of the two "Star Wars" trilogies.  The original which included Star Wars, The Empire Strikes Back and Return of the Jedi – you know the GOOD trilogy.  The followup was the 3-pack of prequels which included Episode I, II and III – and unfortunately for all of us who watched they also included Jar Jar Binks.
Anyway – on the heels of the announcement – Disney announced they will also be making a seventh movie in the franchise – shockingly titled "Episode 7."  I know – VERY creative.
The film is set for release in 2015, and there are plans to follow it with Episodes 8 and 9 and then a new movie every two or three years.
Naturally – the announcement has launched a firestorm of creative possibilities for the creative geniuses with computer power – and here are some of the results…
How about this one?
Or this?
And of course…
The deal brings Lucasfilm under the Disney banner with other brands including Pixar, Marvel, ESPN and ABC.
Kathleen Kennedy, the current co-chairman of Lucasfilm, will become its president and report to Walt Disney Studios Chairman Alan Horn.
Here's a quick recap of the deal that includes clips from the announcement and Lucas himself.
For fans that are worried that there will never again be another great character like Jar Jar in the films going forward – don't worry…Lucas will be creative consultant on the new films.